Strongsville – a city which is perfect for families, families with kids, grandparents with grandchildren, young couples, and of course people who work in Strongsville SouthPark Mall, Strongsville Medical Center, University Hospitals, UH Family Medicine Center, Strongsville schools! People easily can spend a whole day in Strongsville, there are parks, Strongsville Mall, Strongsville Recreation Complex, Mapleside Farms, Strongsville Botanical Garden, Strongsville Cinemark, OMB Arena for ice skating lovers and of course closer to Christmas you can visit Strongsville Christmas lights where you can enjoy a holiday atmosphere and spend some time with your loved ones!
If you a planing to go to Strongsville to spend some time, either in the morning or afternoon or evening – you would probably will be looking for a best restaurant in town!
Strongsville is working on its gastronomic tourism, ( lately very intensive) but still you can find a lot of special cafes and restaurants with their history ( as we know Strongsville is a very beautiful and old city, with its Historical Society) and unique concept that make them famous all over the city and in a lot of Cleveland areas. Of course it is impossible to make a complete list of all the best restaurants in Strongsville – it all depends on your tastes and preferences. But today we will tell you about most interesting establishments in Strongsville which are preferred by tourists, as well as about new and little ones, which are already loved by Strongsville residents themselves, places that will make you come back again, in short.
Institutions in Strongsville are famous for their historical direction, but La Crepe Bakery and Cafe is pretty new restaurant, but, it might be said a little loud, can rightly be considered a gastronomical business card of the city, it is really the best restaurant in Strongsville because even those who have never been in Strongsville have heard of this unique crepe place.
Real European food, with tiny American touch, seasonal menu, amazing European coffee drinks, the best espresso in town for sure!!! It is clear that all the guests are always welcome there and the owners will always share their food experience and European recipes with their customers!
Looking for something unique in Strongsville – visit La Crepe Bakery and Cafe restaurant! Want to come eat delicious food, house made macarons, house baked croissants and house baked bread and enjoy cozy and relaxing atmosphere at the same time – visit La Crepe Bakery and Cafe.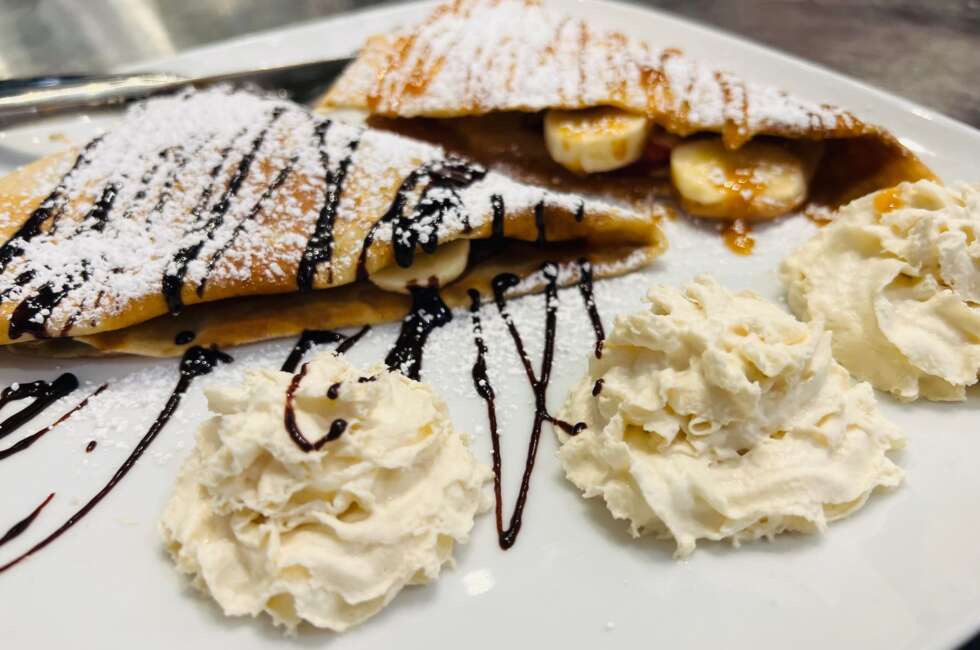 We can argue you would not be able to pass by – the outside of the restaurant is decorated with fresh flower plants, interesting decorations, and always crowd. The inside is also beautiful, comfortable wooden tables with chairs, a small bar sitting area, open kitchen where you can watch how your food is cooking, a huge pastry display with delicious desserts – European and American. The restaurant is a must-see – to taste European food and try some espresso based coffee drinks, which some of them have an unusual and interesting taste. Europe is famous for its coffee, and La Crepe Bakery and Cafe is specializing in making a perfect espresso based drinks.
Where else you can try Espresso Romano, Lungo, Ristretto, Vienna, Cafe' au lait, Bonbon coffee, Glace coffee, Levander Latte, Cardamom Latte, Cafe' Breve, Pistachio Latte, Whipped coffee and many more. If you are looking for something unique and unusual taste – visit the best restaurant in Strongsville! The atmosphere and the dishes allow you to feel the festive mood and make the day truly special.
The menu and cuisine here is really diverse – from traditional French crepe recipes to modern trends right now in our gastronomical world. The menu also offers gluten free items, either savory crepes or sweet crepes or pastries, also vegan crepes either savory crepes for sweet crepes, but they are using the sane equipment for all crepes.
La Crepe Bakery and Cafe is the best restaurant for a lot of people, it is a favorite place to meet friends, mother daughter lunch, a book club meeting, a perfect place for a French class club, for a date. It is really busy during the lunch hours on week days, and busy mostly all weekends, you may have to wait in line for a while, but it will definitely be worth it.
La Crepe Bakery and Cafe's delights with a huge selection of crepes dishes, huge variety of fillings for crepes. And here everything is prepared from scratch, only fresh ingredients, so there is no doubt about the quality. The main highlight is, of course, the crepes, which are cooked with love for every customer.
La Crêpe Bakery and Café is located in downtown Strongsville underneath Xtreme Fitness on the first floor, on Pearl Rd! La Crêpe Bakery and Café is a European style Café with a up to the counter style service, featuring in preparing crepes, French Toasts, Paninis, coffee, tea! Also they have a huge variety of pastries! In cafe you either sit down or do a to go option!
You are always welcome in La Crepe Bakery and Café – the best restaurant in Strongsville! This place is cozy with relaxed atmosphere, you can have a quick breakfast before work or study, you can enjoy delicious desserts, and enjoy some aromatic coffee and tea!
There are a lot of options for your daily fresh breakfast, lunch and early dinner meals. They use only fresh, made from scratch, local ingredients and food! The menu is changed seasonally to provide a huge variety of flavors and to present you different food combinations!
The menu is unique, it is based on practicing different cooking techniques and using European recipes with an American touch! La Crêpe Bakery and Café uses European recipes to make Crepes, but also they interpreted a rustic classical style into a modern everyday meal!
Their coffee is the best in town!